Okay, I have to say this is pretty amazing.  It's hard not to be skeptical that there's more than standard ballpoint pens involved here, but then again, I've seen some surprising things in my day.  Judge for yourself.
Read below for the original article on the astoundingly realistic portraits of artist Samuel Silva, who calls his art a "hobby."  Now that's what I call a hobby!
Original Article: 
The Huffington Post
By Hallie Sekoff
Look closely… it may be hard to hard to believe but the images below are actually drawings made by Portugal-based attorney, Samuel Silva. Silva, who describes his art as a "hobby," uses standard ballpoint pens for many of his drawings, sometimes working on a piece for over 45 hours. Click the link below to see more images.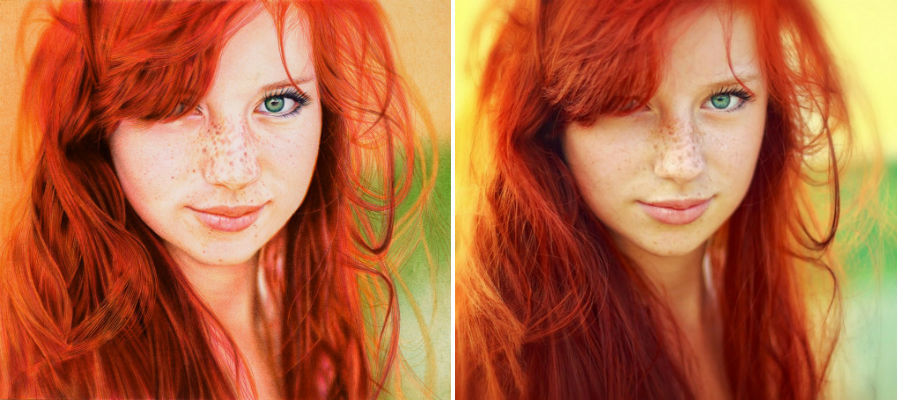 L: Silva's drawing; R: Taraina's photo
For his "Redhead Girl," based on the photograph by Russian photographer Kristina Taraina, he used seven different colored ballpoint pens which took some 30 hours to finish. To create such vibrant colors, Silva "cross hatches" in layers to give off the illusion of additional hues and depth.
For Silva, ballpoint pens are just one of the many mediums he is attempting to master. However, he writes on his DeviantArt page: ""It's not about what you use, it's about how you use it."
His work bears a resemblance to Paul Cadden's astonishing drawings; both artists display incredible attention to detail which challenges even those images captured by the click of a camera.
To see more amazing drawings done ONLY with ballpoint pens, go here.
0<>0<>0<>0<>0
Click HERE to find out how you can draw anything you see in just weeks with my college-level drawing course.
Also, check out my original works for sale or my prints for sale.